2nd Brigade Combat Team, 1st Cavalry Division tapped for summer deployment to South Korea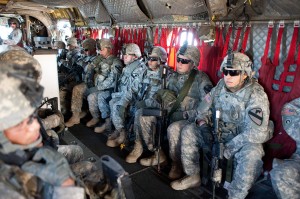 The Army has preliminary plans to rotate 2nd Brigade Combat Team, 1st Cavalry Division, to South Korea next summer.
The deployment of the Fort Hood, Texas-based BCT is part of the Army's growing effort to rotate whole units into South Korea, starting with an OH-58 Kiowa squadron and a combined-arms battalion, said Lt. Gen. Patrick Donahue, the deputy commanding general of Forces Command, in an Oct. 2 interview with Army Times.
"We've done two pilots, where we've sent battalions over there, and we've proven the concept," Donahue said. "We're going to send that brigade from 1st Cav over there fully trained. They're going to go to [the National Training Center] for a full Decisive Action rotation, at 105 percent manning."
While Donahue named the unit, Army officials later clarified that it is not official and the unit could change before summer 2015.
Plans are being considered to sustain the BCT rotation, Donahue said.
The Army began shifting to rotational forces in Korea last fall when 4th Squadron, 6th Cavalry Regiment, from Joint Base Lewis-McChord, Washington, was sent to Korea for a nine-month tour. In February, the Army deployed 1st Battalion, 12th Cavalry Regiment to Korea. The combined-arms battalion from Fort Hood deployed with M1A2 Abrams tanks and Bradley Fighting Vehicles.
Later this month, 1st Battalion, 12th Cavalry will be replaced by about 800 soldiers from 3rd Battalion, 8th Cavalry Regiment, also from the 1st Cavalry Division at Fort Hood. Both battalions belong to the division's 3rd BCT.
These rotations mark a significant change in the way the Army has done business for years, and the practice would increase the readiness of units stationed in one of the most volatile parts of the world.
Officials have said rotating whole units — instead of deploying soldiers on individual tours — will result in formations that are more ready and trained to higher levels.
"This just shows our regionally aligned forces are meeting the combatant commanders' requirements from places like Fort Riley, Fort Hood, Fort Bliss, in a whole host of missions, from something as small as sending a chaplain ministry team to sending an entire brigade," Donahue said.
While the Army is setting the stage to stop individual Korea tours, no final decisions have been made. The 2nd Infantry Division's 1st Brigade Combat Team remains stationed in Korea, and its soldiers are there on individual tours.
The Army has about 19,000 soldiers stationed in South Korea, including the 2nd Infantry Division headquarters and the division's 1st BCT. Other major units include the 19th Expeditionary Sustainment Command, the 1st Signal Brigade, the 35th Air Defense Artillery Brigade, the 65th Medical Brigade, the 501st Military Intelligence Brigade and Eighth Army.
SOURCE: ArmyTimes.com
BY: Michelle Tan
(Visited 251 times, 1 visits today)